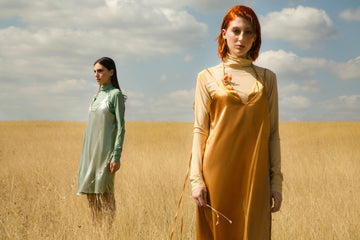 Uniqueness is within you, but to dress unique is good too.
[Frendi]love you
FRENDILOVE is the New York based Slow Fashion brand, collaborating with different talented
designers from different countries to share our love for one of a kind, glamorous and chic clothing that makes your Uniqueness truly show.
Our goal is to give everyone a chance to experience wearing distinctive and handmade clothing. We search for the pieces that intrigue us and the pieces we know the story behind it, the idea that something was created from a nought to something so great, that every detail was important because we know how it feels romantic when you wearing something very special and you can feel - somebody made it by hand and put so much love and affection into it.
This way we are sure that every piece you find in our shop comes with a story and wearing it feels much more wholesome.
Our team works to bring slow fashion in the digital world and in everyday life to people who are searching for more than clothing, to people with a bohemian spirit, and to people who seek more than pretty fabric to cover their skin.
Frendilove.com is happy to mediate creator and You - mostly two strangers for each other to become connected. We are happy to offer you our own range of clothing and accessories, as well as over 10 different fashion designer's collections. We are looking forward to sharing with you pieces our FRENDs and I LOVE.
Proud to be:
Handmade

Every piece in our story is handmade
Including every little detail.

Unique

Everything in our collection is limited.
It is rare to see the same item twice.

Diverse

You will be able to find various types of
clothing and we are still growing.